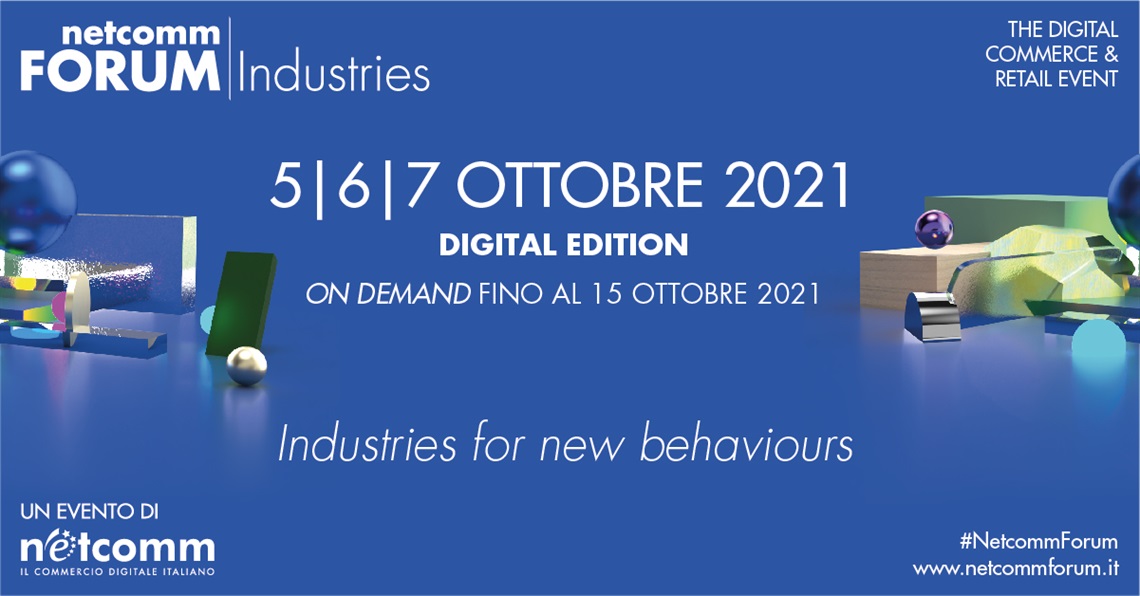 Netcomm Forum torna settimana prossima
Netcomm Forum, l'evento dedicato ai cambiamenti dei consumatori  e delle aziende nell'era della trasformazione digitale, si svolgerà dal 5 al 7 ottobre in streaming. Il tema di quest'anno sarà "Industry for new behaviours".
Quest'anno il focus sarà su tre comparti: fashion & lifestyle, food, health & pharma. Durante la tre giorni sono previste conferenze e workshop, che analizzeranno lo stato dell'arte di questi settori e i cambiamenti in atto sulla spinta delle nuove tecnologie.
Le sfide della tecnologia 
"Lo scenario di mercato sta cambiando a un ritmo sempre più veloce e i trend innescati e accentuati dalla pandemia si evolveranno ulteriormente nel prossimo futuro – spiegano gli organizzatori in una nota – In questo contesto, le imprese sono chiamate a percorrere un processo di innovazione costante e al contempo flessibile, in grado di cogliere tutte le opportunità, ma anche le sfide generate dalle tecnologie, dai comportamenti di consumo e dall'arena competitiva".
I qualificati relatori
A Netcomm Forum interverranno Roberto Liscia, presidente di Netcomm: Stefano Colombo, Marketing Director di Colmar; Erika Martino, Board Member – Sales and Marketing Director di Slamp; Fabio Bonfà di Veepee; Marco Magnocavallo, CEO and Co-Founder di Tannico; Andrea Santagna, Chief Innovation Officer di Mondadori; Viktor Savevski, Chief Innovation Officer di Humanitas Healthcare Group; Luca Buccoliero, Senior Professor presso il Dipartimento di Marketing dell'Università Bocconi; Elena Bottinelli, Amministratore Delegato IRCCS Ospedale San Raffaele e IRCCS Istituto Ortopedico Galeazzi.
Tutti gli Insights