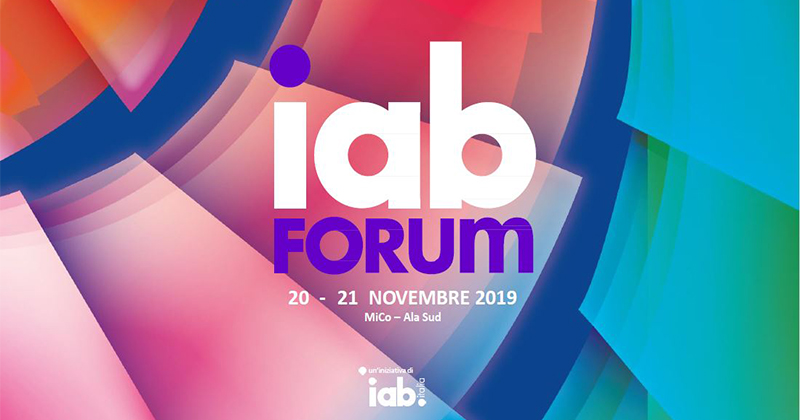 IAB Forum 2019, "Shaping the Revolution"
Ancora pochi giorni di attesa per IAB Forum 2019, l'evento dedicato al mondo del digitale, che si svolgerà il 20 e il 21 novembre al MiCo di Milano.
Un'edizione che si presenta con il claim "Shaping the Revolution" e con direttore creativo Massimo Coppola.
"Il Forum di quest'anno si focalizzerà dunque sull'impegno e sulla maggiore consapevolezza dell'avanzamento tecnologico e del potere del web – spiegano gli organizzatori di IAB Italia – Siamo noi i protagonisti di questa rivoluzione digitale, che possiamo plasmare secondo i nostri desiderata in un universo valoriale che tenga sempre al centro l'uomo. Per farlo abbiamo il dovere di tenere conto dei principi di etica, condivisione, collaborazione e responsabilità, che sono alla base di una buona cultura digitale che porta valore nel tempo".
Una ricerca sul digitale e trenta ospiti
In occasione di IAB Forum 2019 saranno presentati i risultati di uno studio sul settore con dati di Nielsen e dell'Osservatorio Internet Media della School of Management del Politecnico di Milano.
Tra gli ospiti, lo scrittore Alessandro Baricco, il professor Luciano Floridi, che in un'intervista con Ferruccio De Bortoli parlerà dell'etica digitale, e Tina Beuchler, Global Head of Media & Agency Operations Nestlé, che interverrà sul tema dell'importanza della trasparenza per il digital marketing.
Tutti gli Insights